Tenant Garden Competition 2023: Are you proud of your garden?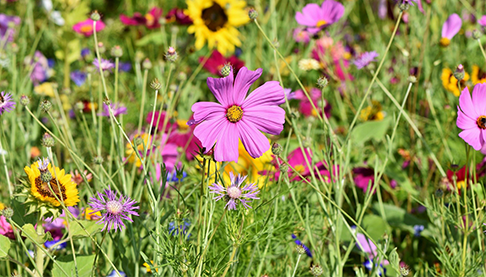 Enter our tenant garden competition and you could win a £30 voucher!
We are looking for the best gardens in our homes, so whether you're proud of your patch, growing your own veggies, or hanging baskets of blooms, we want to see them.
There are six categories to choose from:
Best garden – Does your garden have the 'wow' factor? Judges will be looking for a variety of plants in different colours and shapes, and ornaments used to good effect.
Best tubs, pots, and baskets – Even in the smallest outdoor space, we want to see the creative ways you have been growing.
Best edible garden – We want to see a variety of vegetables, herbs and fruits.
Following feedback from our tenants after last year's competition, we have added some new categories for 2023:
Best use of initiative and creativity of a small space – We want to see how creative you can be within a small space, whether that is in your house, flat, balcony or garden.
Best communal garden – Making the most of your communal area, we want to see how you have transformed your communal area into a lovely garden.
New kids category:
Plot on a plate – Make a miniature garden on a plate or plant pot base using items in and around your home. It must measure no more than 30 cm. Prizes will be awarded for age range 7 and under, 8-11 years, and 12-16 years.
Entry is open from 1 June 2023 and will close 10 September 2023.
Please note this competition is open for Two Rivers Housing tenants only.
How to enter:
Read the Terms and Conditions before entering.
Please complete and send the Entry Form and an image of your garden to communityengagement@2rh.org.uk or post it to Two Rivers Housing, Rivers Meet Cleeve Mill Lane, Newent Gloucestershire GL18 1DS.
If you have any difficulty accessing or entering this promotion or want to find more information, please contact us on 0800 316 0897 or email communityengagement@2rh.org.uk.