Tenants excited by new future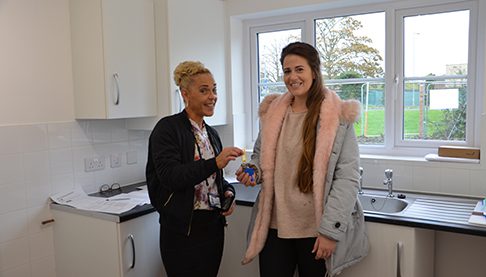 Tenants moving into properties at Ashchurch near Tewkesbury are delighted by what's on offer in their brand new homes.
Hayley Stanton (pictured with Housing Advisor Kathryn Hamilton) is looking forward to having more money in her pocket thanks to the energy-saving features in her brand new, well-insulated home, while Luke Knight and Jade Smith are thrilled to swap a two-bedroom flat for a spacious three-bedroom house with a garden and parking, to accommodate their household of five.
Barleyfields is the first development project between Two Rivers Housing and Linden Homes, and the Newent-based housing provider is taking 12 Shared Ownership and 36 affordable rent properties at the site over the next 18 months. The first six tenants have received their keys and are busy making their houses their homes.
Hayley's four children helped the family to settle in during half-term, moving from an older house with the associated heating bills to a more economical property. They are really looking forward to a fresh start in a new area.
Luke and Jade have always lived in the Tewkesbury area and have lots of family around them. "We were so cramped where we lived before," explained Luke. "Here there's so much more room for the kids and it will great for them to be able to play outside."
"These homes are lovely, sitting on the edge of Tewkesbury, with excellent access to the town, the motorway and the Cotswolds," said Angharad Hodge, Development Team Leader. "We have enjoyed working with Linden Homes so far and look forward to continuing that positive relationship as we take on the remaining properties. We hope our tenants will enjoy living there, too."