High demand for new homes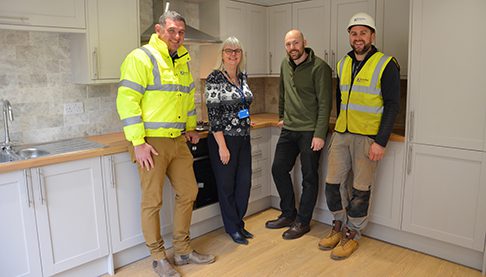 Two Rivers Housing has accepted its first six homes at a brand new development at Tutshill.
All the two-bedroom homes were snapped up before the builders had even finished, and the only Two Rivers properties currently available at the Birch Grove site are three-bedroom Shared Ownership homes.
ButlerWall Homes is building 45 homes on the site at Gloucester Road and Two Rivers Housing is taking 18 of the properties – six as Shared Ownership and another 12 as affordable rent which should be complete early in the new year. All the properties have the benefit of electric vehicle charging points.
It is the first time Two Rivers Housing has worked with ButlerWall – and it's unlikely to be the last!
"We aim to provide quality, affordable homes in a variety of locations and these are particularly popular because of their proximity to Chepstow and the Severn Bridge," explained Sara Walton, Two Rivers' Development Manager. "It was no surprise the first three sold so quickly, and I don't expect the remaining three will be available much longer!
"We have been very impressed with the standard of workmanship from ButlerWall and look forward to working with them again."
Tom Parry, Project Manager at ButlerWall Homes, said: "We have had an excellent working relationship with Two Rivers from the very first meeting with them. We have been delighted to work with their Development team to create a product that has ticked all of their boxes, and very much hope this will be the start of a long-term relationship."
Two Rivers Housing has committed to build at least 100 new homes every year until 2027, in a bid to address the local shortage of affordable properties. They will be a mix of low-cost rent and Shared Ownership – the option to step towards home ownership through part-rent, part-buy.
The three remaining Shared Ownership homes at Birch Grove (valued at £290,000) are offered at a 40% share (£116,000) plus rent of £400 per month. More details can be found on the TwoCan estate agents' website.