Otis launches new online feature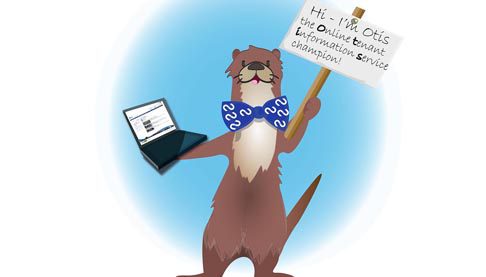 Tenants of Two Rivers Housing can now take even greater control of their tenancy, thanks to an exciting brand new online feature.
"˜My account' is the secure information area which all tenants can access, giving them details of their rent account, repairs history, scheduled improvements and their contact details, among other things.
But now it has been greatly enhanced with a new feature which allows tenants to report a repair online and immediately book an appointment for it to be dealt with, using a calendar to choose the day and time which suits them the best.
We believe we are the first housing association in the country to offer this new facility, and it means tenants can go online any time of the day or night, tell us about a repair and book a visit from our PropertyPlus team.
Helping to launch this is a new member of our Customer Service team called Otis – our Online Tenant Information Service expert. He's also made a few videos to show you how to use it.
"I am otterly delighted to have joined the Two Rivers team," said Otis, champion of our Online Tenant Information Service. "I am looking forward to showing tenants how they otter be able to look after their tenancy with ease, and offering an otter way to book an appointment that suits them."
Otis is so keen to show off this new service that he's running a competition, with the top prize of a tablet going to the first tenant drawn from the hat on Monday 31 July 2017. There are runners-up prizes too.
Otis is hiding in the "˜My account' pages. You just need to tell us where.
If you haven't already signed up to 'My account', visit our website and register now. Then go and find Otis!