Winding Pool Close, Dymock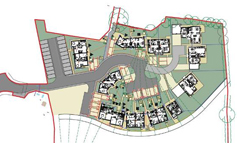 This unique and exciting project included the restoration of a canal basin by the Herefordshire and Gloucestershire Canal Trust. It was championed by the local council and community, as they see it as helpful to the long-term sustainability of the village and its amenities.
Two Rivers took on 14 of the 20 homes which were built by GP Thomas Construction to Code for Sustainable Homes Level 3. Of these, 11 were offered as affordable rent and three for Shared Ownership. The five remaining homes were sold privately by the developer.
The scheme, which was complete at the end of 2015 included one-bedroom flats, two-bedroom bungalows and two and three-bedroom houses. The development also included a children's play area, a footpath through to the village and a village car park.