83 Tufthorn Avenue, Coleford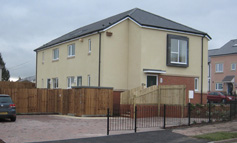 A single detached bungalow stood on a large plot of land in Tufthorn Avenue, Coleford, opposite our previous major refurbishment.
The bungalow became empty in 2013 and we decided we could make better use of the plot of land if we replaced it with four affordable one-bedroom flats. This would also help us to respond to the high demand for homes in this area.
The flats were built to Code for Sustainable Homes Level 3, providing energy-efficient homes for the occupants and helping them to keep their fuel bills down.
The first residents moved into their new flats in March 2015.
The main contractor was GP Thomas Construction and this scheme marked the completion of our HCA 2011-15 programme.