Artspace Cinderford given £5,000 funding boost from Two Rivers Housing Community Fund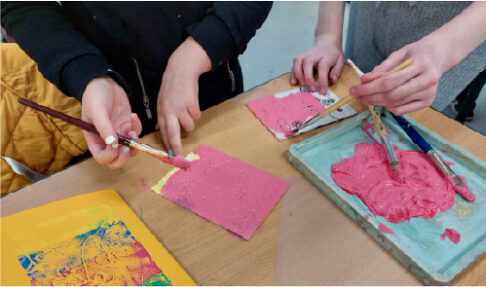 Two Rivers Housing is working with Artspace Cinderford to help the local community get creative through a grant from its Two Rivers Initiatives Community Fund.
Artspace Cinderford received a grant of £5,000 to deliver a new round of engaging art workshops in the Forest of Dean. The charity offers a wide range of creative programs for people of all abilities, including painting, drawing, ceramics and textiles, as well as performing arts such as circus skills.
The grant from the Two Rivers Initiatives Community Fund has been used to support a creative programme for parents and children during the Autumn. The art produced during the workshops will be used to create a digital exhibition on the Artspace website.
Hannah Elton-Wall, General Manager at Artspace Cinderford explained how the grant has helped: "The funding has enabled us to offer more inclusive arts activities and workshops for people with specific disabilities and needs. As a small charity, we often need to rely on external financial support to provide our workshops and programs, so this grant will really help us continue to deliver fun projects for our members and the community."
"Recovering from the COVID-19 pandemic was a challenge for us, as we had to engage new people who hadn't visited the Artspace before. Now we're back in the building, but we're keeping an element of our program online to help maintain that connection with the people who can't physically be here." She added.
"We would like to give a huge thank you to Two Rivers Housing for the support and for helping keep our organisation running. We're very grateful for the opportunity to continue our work at the Artspace and deliver to the local community."
Garry King, Chief Executive at Two Rivers Housing, said: "Many small, local charities saw a huge drop in donations throughout the pandemic. These organisations play a vital part in supporting our communities and tackling issues such as loneliness and isolation as well as providing a warm, safe place for people to come together.
"It's important that local groups like Artspace continue to thrive, particularly in our more rural communities and I am very pleased that we have been able to support this important project through our Community Grant Fund."
For more information and a list of current activities, visit the Artspace Cinderford website.