Adapted homes built in partnership to support people with disabilities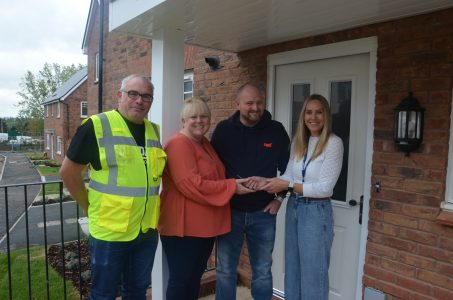 Two Rivers Housing has built three brand new homes designed to ensure a comfortable living space is created for tenants with disabilities.
Working with Redcliffe Homes for the first time, the Newent-based housing association took handover of eight new homes at Strawberry Fields on Rea Lane in Gloucester. Three of the properties have been specially designed to include features such as level access, wide corridors, wheelchair storage and charging facilities, wet rooms and specially adapted rise and fall kitchens.
The site also includes a four-bedroom house, which has been fully adapted with a through-the-floor lift to provide easy access for wheelchair users – a first for a Two Rivers Housing property.
Lydia, one of the tenants moving into the four-bedroom house said: "We feel very lucky to be moving into a new home that has been designed to make life with our disabled son so much easier.
"Now he can come home and be with his siblings and feel surrounded by his family. He will also be able to develop and engage with others as a little boy should. We are grateful and very humbled by the support we've been given and look forward to living in our new home."
Garry King, Chief Executive at Two Rivers Housing, said: "This is a proud moment for Two Rivers Housing and demonstrates our commitment to providing both accessible and suitable homes for our tenants. Meeting the diverse needs of our community is at the heart of what we do and reaching this milestone will enable us to continue delivering on that ambition."
Two Rivers Housing worked in partnership with Redcliffe Homes and Gloucester City Council to make three of the eight homes wheelchair accessible. The homes will feature level access, wide corridors, wheelchair storage and charging facilities, wet rooms and specially adapted rise and fall kitchens.
Jon Burcombe, Development Director at Redcliffe Homes added: "We're proud to have delivered this all-inclusive mix of housing built to our own exacting standards. We look forward to working with Two Rivers Housing again in the future on further developments that will benefit our communities."
Councillor Stephanie Chambers, Cabinet Member for Planning and Housing Strategy at Gloucester City Council said: "I am delighted to see these affordable homes completed, helping address the continuing need for affordable housing in Gloucester. The delivery of wheelchair accessible homes will be life changing to the households that will get to live in them".
Gloucester City Council is part of the Joint Core Strategy Partnership, which focuses on meeting the high demand for affordable housing in Gloucestershire.
Neil Withnell, Specialist Housing Occupational Therapist at Gloucestershire Health and Care NHS Foundation Trust commented: "There is a wealth of evidence of the link between health and inaccessible housing, so it's great to see these new wheelchair accessible properties which will make a huge difference to people with disabilities and their families.
"It is easy to take for granted simple activities of daily living such as being able to get in and out of your home, get to the bathroom, the kitchen or having a shower. People with disabilities living in inaccessible housing often cannot do these things every day. Homes built to these standards remove these disabling barriers from the environment to promote function and wellbeing with even wider benefits to society.
"We'd like to say congratulations on a welcome development, and we look forward to continued innovation in future projects."