Two Rivers Housing team help ensure local children won't go without this Christmas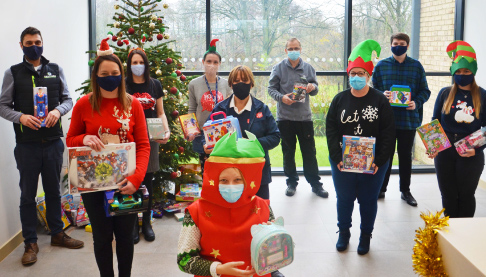 Since the beginning of December, a mountain of gifts including books, toys, games, and clothes has been building underneath the Christmas tree at the Two Rivers Housing head office in Newent.
While many of us are out finishing off our Christmas shopping this week, there are some families in our community that will never even start. Determined to make sure that every child in our community has something to open on Christmas day, we teamed up with the Salvation Army to support its Christmas Present Appeal.
This isn't the first time our two organisations have come together to spread some Christmas cheer. Despite being locked down last Christmas, the team used Amazon lists to donate gifts contact free directly to the Salvation Army.
This year however, Major Vivienne Prescott was able to come and collect the donated gifts and speak to the team about the difference they have made to the local community.
Two Rivers Housing provides affordable homes to more than 4,000 families in the Forest of Dean and across Gloucestershire. We have witnessed first-hand, the difficulties faced by many families over the years and the impact that the pandemic has continued to have.
Speaking about the donation, Chief Executive Garry King said: "As a community-focussed organisation, we work with a number of organisations including local foodbanks, community groups and other organisations throughout the year, but there is something incredibly special about the Salvation Army Christmas Present Appeal.
"Christmas can be a difficult time for those on low incomes, and the last 18 months have certainly added to those difficulties. I was overwhelmed by the response of our team, who responded to the call to help those in need without hesitation. It's an incredible feeling knowing the difference that the generosity of my colleagues will make to families in our community."
Major Vivienne Prescott, of the Forest of Dean Salvation Army said: "I am overwhelmed by the generosity of the Two Rivers Housing team again this year. As always, it was an amazing contribution and so needed after a tough time for many local families. I would like to thank them all from the bottom of my heart and on behalf of these families."
"Over the years, millions of children and young people have benefited from gifts donated to The Salvation Army but we couldn't do it without generous donations from the public. By giving gifts to our Christmas Present Appeal the team at Two Rivers Housing has made a real difference to the lives of local families this Christmas."
You can make a donation to the Salvation Army Christmas Present Appeal, or find other ways to get involved and help make a difference to people's lives in your community by contacting your local branch or by visiting www.salvationarmy.org.uk