More affordable homes for Newent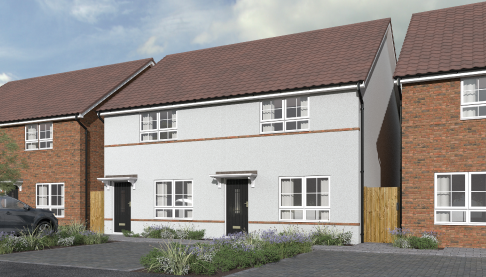 Gloucestershire-based Two Rivers Housing has agreed a contract to provide 92 new affordable homes on a site in Newent, just off the B4216.
The site is being developed in partnership with national housebuilder, Barratt & David Wilson Homes and will be the first time the two organisations have worked together. In total, the housing association has agreed to take on 92 properties on the site, including 64 homes, which will be available for affordable rent. The other 28 homes will be available for Shared Ownership, which gives first time buyers an affordable first step on to the property ladder.
A mix of one, two, three and four bedroom homes, will be provided at Barratt & David Wilson Homes' Merlin Gate site, which will also include four acres of open space and over 100 new trees. The site, which is named after the UK's smallest bird of prey, is within walking distance of Newent town centre and less than a 20-minute drive to Gloucester.
Sara Walton, Development Manager at Two Rivers, said: "When choosing a development partner, we look for a team that is as committed to delivering quality homes as we are and I'm sure we've found that with Barratt & David Wilson Homes."
"There is a real need for housing across Gloucestershire and we are very pleased to be able to offer 92 new affordable homes in Newent. These homes will provide the opportunity to rent or part-buy a property at an affordable price, within easy reach of good employment areas like Gloucester, Ross-on-Wye and Ledbury."
Steve Williams, Managing Director at Barratt Homes South Wales, added: "Building strong community relationships is one of Barratt Developments' key principles. It's therefore our pleasure to be working in partnership with Two Rivers Housing, who value community support just as much as we do.
"Offering the very best of town and country living, Merlin Gate will without doubt create a positive legacy in Newent and the surrounding area — contributing towards a thriving community for years to come."
Two Rivers Housing currently provides more than 4,200 homes across Gloucestershire and the surrounding counties. In 2018, it pledged to build 1,000 new affordable homes in the area by 2028.
The homes will be available for rent and Shared Ownership in 2022 and will help Two Rivers Housing deliver on its ambition to provide more warm, safe, affordable, homes to families in Gloucestershire.