As one contract ends, another begins – 52 new affordable homes in Twigworth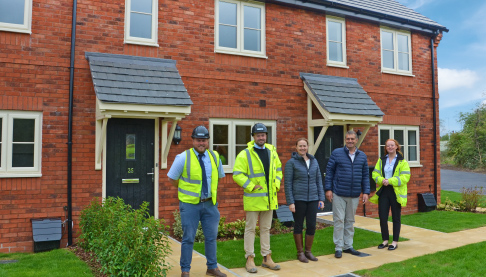 Gloucestershire-based Two Rivers Housing is continuing on its mission to create great homes across the County.

Since 2017, the housing association has taken handover of 116 new properties from Bloor Homes at its Tewkesbury Meadow site and it's not stopping there.

Committed to increasing the number of affordable homes available across Gloucestershire, Two Rivers Housing has signed a new contract with the developer to provide more affordable homes at its site in Twigworth.

Building on the four-year partnership, the housing association will work with Bloor Homes to deliver 52 new affordable homes at Twigworth Green. All 52 homes will be available for affordable rent, helping even more Gloucestershire families to move into a warm, safe, affordable home. The new homes will be available to bid on through the Homeseekers website from spring 2022.

Angharad Hodge, Head of Development at Two Rivers Housing, said: "We are committed to helping families across Gloucestershire find an affordable home. There is a real shortage of affordable housing across the County and our partnership with Bloor Homes has enabled more than 100 families to move into their new home in the past four years.

"We believe that everyone should have access to a warm, safe, affordable home when they need it and, alongside our new build programme, we continue to invest in our existing homes and communities.

"Since 2018, we have been able to provide more than 320 new homes for families in Gloucestershire and, by working with our development partners, remain on track to build 1,000 by 2028. We are really pleased with the quality of the homes that have been built at the site in Tewkesbury Meadow and look forward to working with Bloor Homes at its site in Twigworth."

Steve Roberts, Regional Managing Director at Bloor Homes Western, added: "Bloor Homes strives to make home ownership a reality for as many people as possible, and with the demand for homes across the UK increasing, partnerships such as ours with Two Rivers Housing are crucial if we are to enable future generations to realise their dreams of getting on the housing ladder.

"We have worked closely with Tewkesbury Borough Council to ensure that our development provides affordable housing opportunities for people in the Borough who may not be able to enter the private sale or rental market.

"Handing over the last of the 116 affordable houses to Two Rivers Housing is a milestone, as it means four years of building work is coming to an end, and we can leave the site in the knowledge that all the new residents will become a part of this new close-knit community."

Two Rivers Housing currently provides more than 4,200 affordable homes across the Forest of Dean and Gloucestershire. In 2018, it pledged to build 1,000 new homes by 2028.

The final properties at Tewkesbury Meadow were handed over on 30 September and were a mixture of affordable rent and Shared Ownership – the option that allows people to take a step towards home ownership through part-rent, part-buy.