Two Rivers Housing well on its way to a sustainable future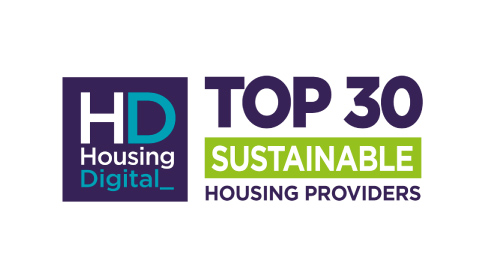 Two Rivers Housing has been recognised as one of the 30 most sustainable housing providers in the UK.
The national awards, run by Housing Digital, are designed to celebrate housing providers that have gone above and beyond to improve the sustainability of their organisation, whether that's through retrofitting properties, using renewable and green technology, or building homes to net-zero standards.
Two Rivers Housing is one of only a few small, local providers to place in the awards, with the majority of the top 30 filled with larger national housing providers. We're pleased to say that we have still managed to hold our own in the top 15, ranking thirteenth overall. 
Commenting on the Two Rivers Housing award submission, the judging panel, which featured multiple sustainability experts, said: "[Two Rivers housing] Shows a real passion for sustainability and its local environment."
Commenting on the award, Luke Beard, Assistant Director of Assets at Two Rivers Housing, said: "Being recognised in this award shows that the work we have done so far, as well as our plan for the future, is on par with some of the biggest housing organisations in the country and that we are heading in the right direction in our aim to become Carbon Zero by 2050.
"In 2020, the we undertook a carbon audit, which revealed that the organisation produces around 10,000 tonnes of CO2 every year and 90% of that comes from our existing properties."
Luke added: "We believe that everyone should have access to a warm, safe, affordable home when they need it, but affordability isn't just about the amount of rent you pay – it's also about the cost of living in that house.
"Building well insulated homes, that utilise sustainable materials and working to retrofit our older properties not only helps us to reduce the impact we have on the environment, it also makes our homes healthier and more affordable to run – a win for us, our tenants and the planet."
Earlier this year, Two Rivers Housing were awarded a £500,000 government grant from the Department of Business, Energy and Industrial Strategy (BEIS) to undertake a pilot project that will see it retrofit a small number of its homes in the Forest of Dean. The project will provide valuable information on how its older properties are performing and help create a long-term plan to improve the energy efficiency of its older homes across the county.