Two Rivers Housing gets gold for the seventh year running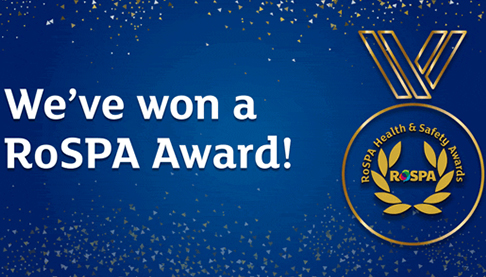 Two Rivers Housing is celebrating after securing an internationally recognised award for demonstrating high health and safety standards for the seventh year running.
The housing association, which provides more than 4,000 affordable homes in the Forest of Dean and surrounding area, was awarded a The Royal Society for the Prevention of Accidents (RoSPA) Gold Medal for Health and Safety.
Organisations receiving a RoSPA Award are recognised as being world-leaders in health and safety practice. Every year, nearly 2,000 entrants strive to achieve the highest possible accolade in what is the UK's longest-running health and safety industry awards.
Staff from Two Rivers will be presented with a gold medal during a special ceremony at the Hilton Birmingham Metropole hotel later this year.
Commenting on the award, Luke Beard, Assistant Director of Assets, said: "We are delighted to receive the RoSPA Gold Health and Safety Award for the seventh year running. The health and well-being of our team members is a top priority and achieving this demonstrates our continued commitment to working to the best health and safety practices possible.
"Winning this award is a credit to the hard work of everyone at Two Rivers. Health and safety is everyone's responsibility and every member of the team has played a part in this achievement."
Julia Small, RoSPA's head of qualifications, awards and events, added: "The RoSPA Awards scheme is the longest-running of its kind in the UK, but it receives entries from organisations around the world, making it one of the most sought-after global accolades in health and safety.
"RoSPA wants every employee, wherever they are, to work safe in the knowledge that they will be going home unharmed and healthy at the end of every day. The RoSPA Award winners are vital to help achieve this goal, as by entering they are driving up standards and setting new benchmarks for organisations everywhere."