Samantha moves into 'milestone' flat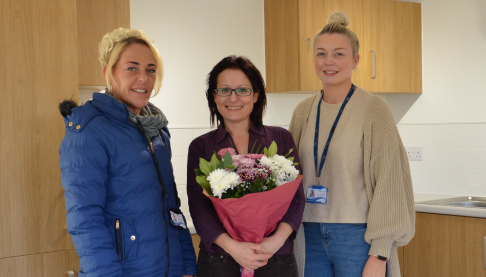 The new year signalled a brand new and exciting start for one Two Rivers Housing tenant, whose move into her new home also signalled the achievement of a milestone.
Two Rivers Housing has been working with Gloucester-based Newland Homes at three different sites across the county – at Toddington, Willersey and Hempsted in Gloucester – building a total of 56 homes for affordable rent, social rent and Shared Ownership.
The Toddington scheme of 14 homes was the first to complete in the autumn, closely followed by 17 at Hempsted just before Christmas. The Willersey development was the largest for Two Rivers with 25 homes in all, and the last set of keys has just been handed over to Samantha Kennedy.
Samantha has swapped a Cirencester bedsit for her brand new one-bedroom flat in the Cotswold village and couldn't be happier with her choice. "I absolutely love it," she said. "It's perfect for me and I'm very excited to have a garden, too."
Angharad Hodge, Development Team Leader at Two Rivers Housing explained: "This is the first time we have worked with Newland Homes and all three projects have gone really smoothly. We have a very active building programme, aiming to build at least 100 new homes each year of all sizes and tenures, and I look forward to further opportunities to work with Newland to provide more properties people can afford to live in."
Tim Sergeant, Corporate Services Director at Newland Homes, said: "We have been delighted to have worked with Two Rivers on these three developments and we will continue to help to build communities in partnership with them when the opportunities arise. Our ethos is to work closely with partners like Two Rivers to ensure that essential affordable housing neatly integrates into our own developments.
"In recent times we have done this successfully across a number of developments providing or committing to over 300 affordable homes across Gloucestershire and the South West."