William's new "wow" home!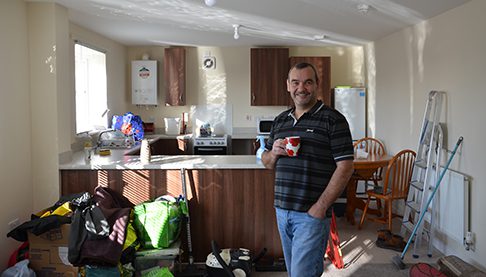 Homes at Johnstone Close in Staunton are due for a 21st century makeover, courtesy of a total redevelopment of the site.
The 26 bedsits and flats, one house and communal room that make up the scheme are more than 40 years old and no longer meet our standard of accommodation, so – after consulting with tenants – we are planning to demolish it and start again.
Now we are talking to residents about where they would like to move to – either temporarily or permanently – and helping them to make the arrangements.
One of the first to relocate was William Houston, and the coach driver paid tribute to how Scheme Co-ordinator Marianne Roy helped to arrange his move to Newent.
"Marianne was fantastic and made it very easy for me, which took away all the stress," he said. "She helped organise the removals and carpet fitting, and Two Rivers paid for them all.
"I loved the flat as soon as she showed me the photos and then, when I first walked in, I said "wow!" It's so much larger, brighter and warmer than my old place. I'm over-the-moon."
We will make sure all current tenants are settled into their new homes before we start work on the site, which means we don't expect to begin until 2021 at the earliest.
We are still considering the designs for the new homes but will provide accommodation for anyone who wishes to return once they are built.