Staff give to local appeal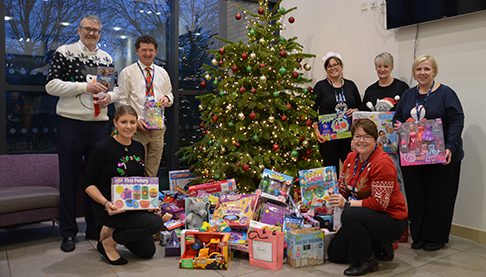 Staff at Two Rivers Housing have shown their generous side by donating a car-load of toys and other gifts to help disadvantaged and vulnerable families this Christmas.
They chose to support the appeal run by the Forest of Dean Salvation Army and, on Monday, Major Vivienne Prescott collected the mound of gifts from the housing charity's office in Newent.
The collection included gifts for children of all ages, plus items for mums expecting their baby at Christmas and for single parents, too.
"The help we receive from Two Rivers staff makes an enormous difference to those in our community who really struggle at this time of year," explained Major Prescott. "Together we improve the lives of some of the families that are most vulnerable, and we are incredibly grateful to everyone who helps us to support them."
Garry King, Chief Executive at Two Rivers Housing, said: "We have supported this appeal for several years and our staff really enjoy being able to contribute. This year we collected even more items, as some of their friends and family also got involved. It was a fantastic effort that helps to demonstrate our active role within the community, and I am so proud of my colleagues."