Fit to stretch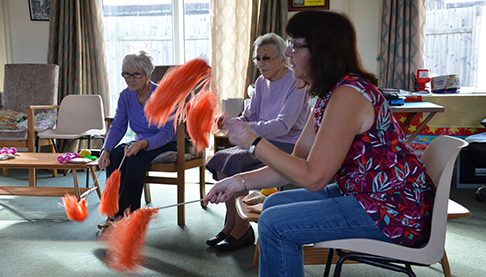 Berry Hill's keep fit enthusiasts have been given a boost with new equipment to help their weekly class along.
The weights, spiky rings, bells and rubber balls come from a grant made by The Barnwood Trust, and they offer a fresh dimension to the weekly exercise class.
A group of people has been getting together every Tuesday afternoon at George Place for over 20 years, to enjoy an armchair workout to music.
The 45-minute class – which is open to everyone who lives locally – used to be led by a teacher from the college but, when she stopped, Cilla Blackwell and Sue Reddan decided to keep it going. Happily, they knew the exercises so well, they were simply able to pick it up and carry on.
Now, a group of about a dozen meet regularly to exercise their hands, arms and legs from the comfort and safety of their chairs – and enjoy a rewarding cup of tea and slice of cake afterwards!
"I was really impressed with the Barnwood Trust and we're all very grateful for their support," said Sue. "We used to make our own equipment but this donation has set us up nicely for the future."
If you would like to join this gentle seated exercise class, you will find them at the communal room in George Place on Tuesday afternoons between 2.30 and 3.15pm.