Painting a brighter future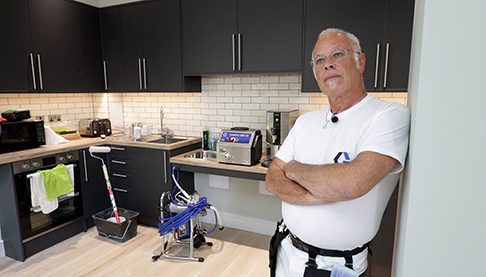 Gary Melville is living proof that anything is possible, and, with a little help, important life changes can happen.
Gary's background is in business, however, he became seriously ill a few years back and needed to find another, sustainable, way to earn money while looking after his own health and wellbeing.
He wanted to pursue a painting and decorating career, but one with a difference.
Instead of painting with a roller or brush, specialist spray machines are used, giving a much superior finish, as well as being significantly faster. This makes it more suitable for decorating commercial and industrial properties as well as new builds or lived-in homes.
Gary, who lives in one of our Newnham homes, applied to the Barnwood Trust for an Opportunities Award. The grant is available for disabled people or those living with mental health challenges in Gloucestershire.
It can be used to cover training, equipment or clothing to help towards a job, volunteering, or setting up a new business. In Gary's case, it went towards the two specialist spray machines he needed. He also received another grant from the GEM (Going the Extra Mile) Project, which covered his training. Gary has recently completed a level 3 NVQ in Industrial Painting plus a level 1 certificate in Spray Application.
Gary has been keen to support himself and regain his independence. "Something that I've been lacking in, for the last three and a half years, is my self-worth." he said. "It means I'll have my independence and I'll have my own choices, which at the moment, I don't really have.
"For years my pride got the better of me. In the end, by finally opening up and asking for help, it has allowed me to move forward with my life. Without that help, I would probably be stuck in a situation for an awful long time. So, my message would be – put your pride to one side and ask."
Anyone interested in Gary's spray painting services can contact him by email at gary@melvilledecor.com or call 07488 278930 or 01594 719425.
Further information on the Barnwood Trust or The GEM Project, and the grants available, can be found on their websites.