Green fingered tenant takes 'supreme champion' award.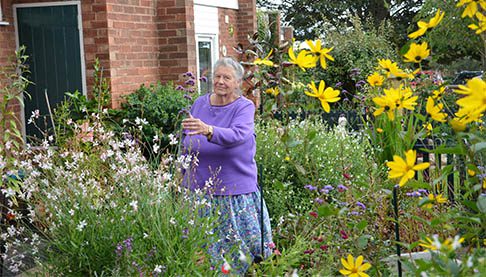 Margaret Shayle, a Two Rivers tenant at Glebe Road in Newent, has been awarded "˜Supreme Champion' for the "˜Best front garden' in the 2019 Newent in Bloom competition.
Margaret has been living at Glebe Road for seven years and transformed the space from nothing but weeds and poppies to a beautiful and diverse environmentally-friendly garden. "I am no gardening expert," said Margaret. "If I see a plant and like it, I pop it in and then hope for the best. I really enjoy spending time in my garden, but it was a complete surprise to win this award".
It was Margaret's neighbour who encouraged her to enter and who submitted the application form. "The next thing I knew, I had a letter through the door to say the Chief judge had visited and would call again. Then I received another letter to say I had won a Gold certificate and the Smith's Chartered Surveyors' Perpetual Cup," she added.
"I would encourage other people to get out in their gardens and give it a go. I don't see it as a chore; it is a nice way to spend time outdoors."
Margaret will be attending Newent Onion Fayre on 14th September to receive her certificate and trophy which are being presented at the Memorial Hall.