Two Rivers staff help out at the Orchard Trust.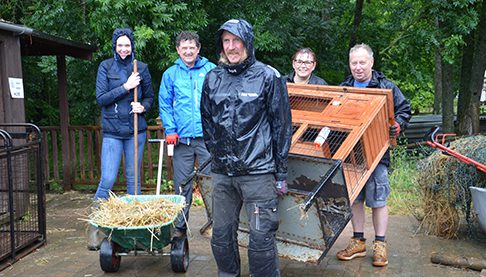 Members of staff from Two Rivers Housing volunteered their time to help out at the Orchard Trust in Lydbrook as part of the "˜Helping Hands' project. The project gives each staff member a day out of their normal working hours to help other organisations and charities within the communities it serves.
Despite the pouring rain last Friday, the Two Rivers team worked hard, sweeping, clearing, cleaning, erecting gazebos and generally giving the centre a spruce-up before its Summer Fair on 21st July. Another group of volunteers from Two Rivers then attended on Monday 22nd to help with the clearing and packing away to help to get the centre back to "˜business as usual'.
The Orchard Trust is an independent charity based in the Forest of Dean, providing a wide range of services to meet the needs of people with disabilities in Gloucestershire and the surrounding areas.
Garry King, Chief Executive at Two Rivers Housing, who was part of the Friday team, said: "Two Rivers is here to support communities in every way possible and our Helping Hands days, where every employee spends a day with local organisations and projects, are always a rewarding experience. The Orchard Trust is a remarkable and special place, so we were pleased to be able to help them to get ready for their summer event. They are an independent charity so really need the help of volunteers and it is surprising what can be achieved in a day."
Phill Hucks, Project Manager added: The Helping Hands team from Two Rivers Housing were there when we needed them; cheerful, enthusiastic and hard-working they helped us get the site ready for the summer fete and clear and tidy up afterwards. Volunteers are really important in making a success of events like this."