New homes at the former Full Moon pub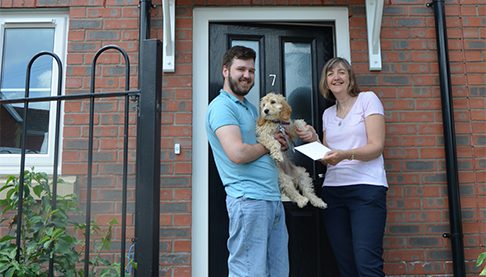 The keys have been handed over to the first residents on a small development of new homes in Wotton-under-Edge, built on the site of a former pub.
Taproom Mews, Reynolds Close, stands where the Full Moon pub used to be in Synwell, and will be home to 10 families, the first having just moved in, taking advantage of the part-rent, part-buy initiative, Shared Ownership.
The development has been funded by Stroud District Council and Homes England, and Woodbourne Group managed the development on behalf of Two Rivers Housing, providing much-needed affordable homes in this beautiful and highly-desirable area of the Cotswolds.
Annie and Robin Heap are among the new residents at Taproom Mews. "We are absolutely delighted with the house, and it's our first proper home together," said Robin. "We were looking for ages and just happened to be in the right place at the right time when they became available. We couldn't miss this opportunity to move from Dursley back to Wotton, where I work. My wife is studying in Bristol, so it's ideal for her too. It's a great first home for us and Penny, our Cockerpoo pup."
Garry King, Chief Executive of Two Rivers Housing, added: "There is a real shortage of affordable housing in rural areas throughout the county, but there's even more demand for low-cost homes in the Severn Vale. I am so pleased we were able to join forces with our partners to help people like Annie and Robin who want to afford to live near where they work, and by choosing Shared Ownership, they can work towards owning the house outright, if they wish, which is a great opportunity."
Woodbourne Group Chief Executive Tani Dulay said: "The deal with Two Rivers follows the culmination of best efforts working with multiple stakeholders to unlock a previously stalled site. We combine our social purpose with commercial drive to create neighbourhoods everyone can be proud of."
Two Rivers Housing has more than 4,000 rental and Shared Ownership properties of various sizes and styles in Gloucestershire and Herefordshire and an ambitious delivery programme that will increase the choice of homes people can afford to live in. The housing association is currently investing over £30 million in building more than 300 homes in 14 locations, including Standish and Tetbury.
Anyone interested in one of the remaining two 2-bedroom homes at Taproom Mews with 50% shares from £115,000 plus rent of £263.54 pcm, or Shared Ownership in general, should register on the Help to Buy website: www.helptobuy.co.uk .