New director takes the helm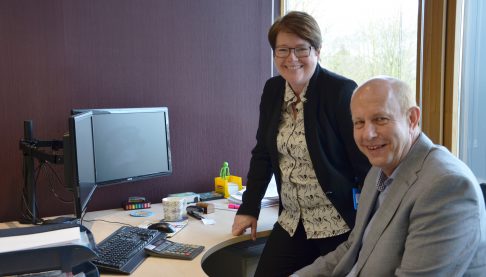 A new Director of Resources is being welcomed to Two Rivers Housing this week, ready to embrace the challenge of her first director role in housing.
Carol Dover already has 10 years' experience of the housing sector and has moved to the Gloucestershire organisation from neighbouring Connexus Housing Group in Herefordshire, where she was Head of Finance. Previously she worked for Marches Housing, which is now part of the Stonewater Group.
Before moving into housing, Carol worked in commercial finance roles – for Wyevale Garden Centre Group and Bulmers Cider Company – and also within the manufacturing sector for Kraft Jacobs Suchard and Rexam packaging.
Carol is taking over the reins from Barry Thompson, who has been in charge of the finances at Two Rivers for 14 years. His CV includes a total of 28 years working in the housing sector, and he is now looking forward to the start of his retirement, for which he has ambitious travel plans and a desire to improve his golf handicap!
Meanwhile, Carol takes over at a very positive time. Two Rivers Housing was awarded top marks in last year's IDA with a G1/V1 rating and it is investing heavily in its development programme. More than 1,000 new affordable homes will be built in Gloucestershire over the next 10 years, and Two Rivers is currently investing more than £30 million in 300 homes at 12 schemes across the county.
The housing association also has three profit-for-purpose strands to its business – Centigen Facilities Management, TwoCan estate agency and Tandem Living homes for open market sale.
"This is such an exciting time for Two Rivers," said Carol. "Barry has established an incredibly strong foundation for the business over the years and it will be a pleasure and an honour to continue his work. I can't wait to get started."
Outside of work, Carol has a busy home life which revolves around her husband and four sons, but she also enjoys taking time out to go running in the woods with her dog.
Garry King, Chief Executive of Two Rivers said: "Barry has been with us since the early days of Two Rivers Housing, and we have benefited from his steady and prudent stewardship of our resources over the years. The Board has always valued his sound advice and wishes Barry well in his retirement, whilst welcoming Carol and looking forward to her contribution to our future."