Delivering more affordable homes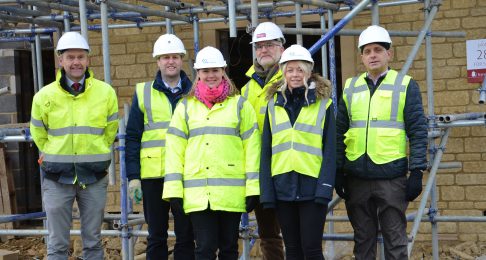 Two Rivers Housing and Newland Homes are building 56 affordable homes in three locations in Gloucestershire.
Contracts have just been signed on the schemes at Toddington, Hempsted and Willersey that will deliver 36 homes for low-cost rent and 20 for Shared Ownership – the part-rent, part-buy option.
Angharad Hodge, Development Team Leader at Two Rivers Housing, said: "We are keen to work with local businesses and suppliers wherever we can as it reduces the environmental impact and supports the local economy.
"Newland Homes shares our values of building quality homes that help to improve local communities, focusing on good design and sustainability, so they are a natural partner and we look forward to working with them."
Tim Sergeant, Corporate Services Director from Newland Homes said: "We are pleased to be working with Two Rivers Housing again on several sites across Gloucestershire, following on from the success of our development at Swallowcroft, Eastington. As a leading privately owned Gloucester-based house builder we are proud to deliver affordable, high quality architect designed homes, created with materials that reflect and blend in with the local vernacular, in addition to providing much needed affordable housing."
Research carried out in 2016 for the Gloucestershire Homes and Communities Partnership (of which Two Rivers Housing is a member), showed 50,000 new homes are needed in the county by 2030 to help meet demand.
Two Rivers has committed to build more than 100 properties every year to contribute to this target. It is currently investing more than £15 million in building over 300 properties for affordable rent and Shared Ownership at 14 sites across Gloucestershire.
The first homes being built in partnership with Newland Homes are expected to complete in the late spring, with the rest due to be released later in the year.