Two Rivers helps sick children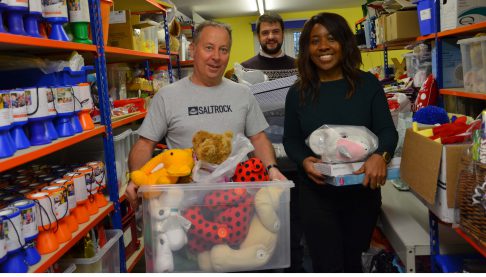 Staff from Two Rivers Housing have been helping a Gloucestershire's children's charity to prepare for its Christmas fayre.
This is a major annual fundraising event for the James Hopkins Trust, which cares for babies and young children with life-limiting or life-threatening conditions, and a team of seven from the Newent housing association joined them to sort out items ready for their festive "˜Extravaganza' and make festive hampers.
Two Rivers staff volunteered to help as part of the organisation's Helping Hands initiative, which gives staff time out of their normal activities to support a local charity or community project.
The Christmas Extravaganza is this Sunday (9th) at Hatherley Manor and proceeds will help to support the many children and families cared for by the charity. Aside from a wide selection of stalls selling cakes, games, toys, books and an array of hand-made gifts, visitors will be able to meet Father Christmas and have their photographs taken in a giant snow globe.
Sarah James, Head of Fundraising at the James Hopkins Trust, said: "Two Rivers has helped us for the last couple of years and their support is vital. If we had to pay people to help us, it would make a huge dent in what we could achieve at the fayre. Thank you Two Rivers!"
Emma Mifflin, who was part of the Two Rivers team, said: "I really enjoyed helping out. It is such a worthwhile cause and it's satisfying to know we have made a real difference to them. Hopefully they will raise lots of money on Sunday to help the children and their families."