Conference will 'make sense of sensors'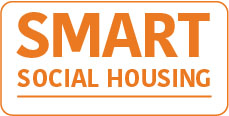 Two Rivers Housing is hosting an "˜internet of things' knowledge-sharing conference on 21 November at its Newent headquarters.
The latest in the Smart Social Housing series of events, "˜Making Sense of Sensors' will focus on the rise of the internet of things (IoT), and how new connected home sensor technologies are revolutionising the housing management landscape.
Although a number of early adopter landlords have demonstrated genuine leadership in this area, the vast majority are still considering how best to deploy IoT, despite understanding the potential value of the technology.
Keynote presentations will be delivered by Mark England, the Head of Technical Services at Coastline Housing, and Paul Taylor, the Innovation Coach at Bromford Lab – both have named in Inside Housing's recent Tech Leaders List for 2018.
Two Rivers Housing's Assistant Director of Development and Asset Management, Luke Beard, believes the time is perfect for this event: "I don't profess to be an expert (yet) on the internet of things, but do realise it has the potential to improve the way we manage properties and deliver services", he said.
"This event is aimed at people like myself, who are keen to know more about IoT and learn from those landlords who have a head start. I'm looking to exchanging some knowledge, and at the end of the event have a list of good ideas to take forward."
The event is free to attend for anyone working in social housing, but will be of particular relevance to anyone managing housing assets, IT, energy or tenant services.
Smart Social Housing is sponsored by Secure Meters (UK), which launched Beanbag, its first IoT smart heat control for social landlords, in 2017.
Market Development Manager Nigel Ebdon said: "We're delighted to have the opportunity to partner with Two Rivers Housing for this event – the first Smart Social Housing conference to be hosted by a landlord.
"Although Beanbag is a smart thermostat, we have future plans to develop a suite of products covering aspects ranging from health and wellbeing to supported living.
"But we'll view this event as another valuable opportunity to learn."
Content will include presentations from social housing technology thought-leaders and live, practical, examples of IoT applications.
Please register for the event through Eventbrite .