City living has a taste of history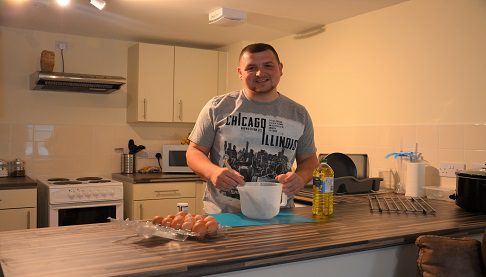 Residents in a new Gloucester block of flats are sharing their lives with a large slice of history.
The apartment block on Wellington Street stands on the site of the former Gloucester British School, which was built in the 1800s, and the development incorporates the historic foundation and memorial stones.
Archaeologists also uncovered Roman relics during the excavation. Fragments of pottery, a clay pipe and a roof tile were among the items dating back nearly 2,000 years ago, and which are now in the care of the Museum of Gloucester.
Two Rivers Housing built the 22 one and two-bedroom homes to cater for demand for affordable homes to rent from city-lovers. They are a stone's throw from shops and entertainment, ideal for a young person setting up home.
Kieron Harper was one of the first to move in. The 25-year-old is Gloucester born and bred, his family are just a few minutes away and he's within an easy walk or cycle ride to work near the hospital.
"I love it," said Kieron. "The location's perfect and this is home to me."
Stephen Ingram, who managed the development for Two Rivers Housing, said: "Most of our properties are one or two storeys high and in rural locations, so it was particularly interesting to manage a project of a block of flats on four levels in the middle of the city centre! The historical aspect of the site was also intriguing, and I am really pleased we were able to retain, and incorporate, the foundation stone in the new building."