Families feast in the Forest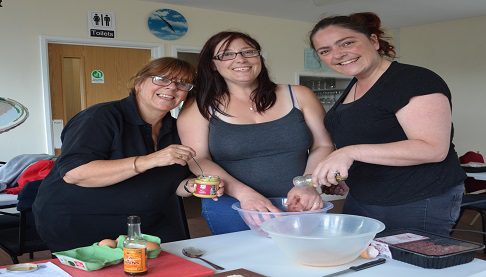 Coleford Family Feast went al fresco this month, taking to the woods to cook home-made burgers on an open fire and hunt for wildlife.
The event, run by Forest of Dean Salvation Army in conjunction with Two Rivers Housing, is usually held indoors, but this time they took advantage of good weather to set up camp at the Angus Buchanan recreation ground in Coleford.
Family Feast is designed for adults and children to get together after school to cook, eat and play together, and absolutely no cooking skills are required!
Lizzie Cox is a nurse, and her husband usually has a meal ready for her when she gets home after a busy shift, but she thoroughly enjoyed making burgers for the first time, with guidance and encouragement from Major Vivienne Prescott of the Salvation Army.
She was also quite impressed by what she achieved. "It was amazing!" she said. "I'm proper proud that I made a burger and it tasted lush! I'm really grateful. Can I come to the next one?"
Meanwhile, Chantal Cox is a regular at the group and has previously learned how to make pasta bake, risotto, chicken divan, banoffee pie and apple crumble.
"I'm not a bad cook," she explained. "It's just the timing that's difficult and having the confidence to pull it all together at the end. I've been to a few Family Feasts now and, apart from enjoying the cooking, it's great to meet other people and for the children to be able to play together."
Once the mums had prepared the burgers, they cooked them alongside jacket potatoes on an open fire – while the children went in search of insects, bugs and wildflowers. When the food was ready, everyone came together to enjoy their Family Feast.
Penny Mail, who works for the Two Rivers Community Engagement team, said: "Family Feast has been a great success in showing people how easy it can be to prepare a cheap and delicious family meal. It's also a lovely way for people to work together to achieve something they can then all enjoy – and hopefully learn skills and make new lasting friendships."
Major Prescott said: "We think it's important to encourage families to eat seasonally (which is often cheaper) and not to be afraid of attempting to cook a meal from scratch. Eating together is also a wonderful experience. We certainly do that here and would encourage families to re-discover sitting down and enjoying a home-cooked meal together."
Family Feast is open to all, and meets once a month on a Tuesday afternoon to learn a new recipe and make new friends. There is no charge. The next event will be on Tuesday 10 July between 4pm and 6pm at the Salvation Army Hub in Broadwell. All ingredients, recipes and cooking guidance will be provided. For further information or to book a place, please call 01594 839106.