Students help people with dementia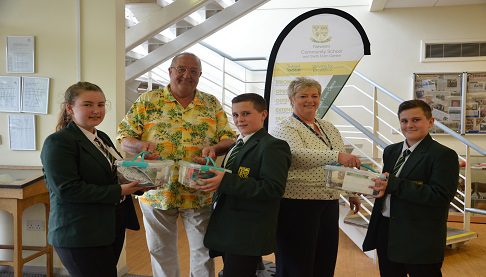 Students at Newent Community School have been helping to stir the memories of local people with dementia.
The pupils have been collecting items to put in memory boxes which have now been distributed to Two Rivers Housing, Forest of Dean Dementia Action Alliance and Newent Library to use with tenants and other local people.
All students in Year 8 complete a Dementia Friend badge and learn how the disease can affect those with the condition and their friends and families. Some of the children have grandparents with dementia and understand, first-hand, some of the pressures it can cause. The project helps to give them greater awareness, acceptance and empathy and works towards the aim to make Newent a dementia-friendly town.
This year's project was for the children to collect items that would trigger some recollections for people with dementia, and the memory boxes included soap, books, sweets, toys and even a box of icing sugar priced at 29½p!
"It's crucial young people learn about dementia and its impact on the family and wider community," said Di Harrill, Head of Personal, Social and Health Education at the school. "Having an understanding will help reduce the stigma and enable people to live well with the condition. Students at Newent continue to embrace this topic with compassion and empathy."
Two Rivers Housing has been a member of the Dementia Action Alliance for several years, and has a close working relationship with the school. It has been running various reminiscence sessions with some of its older residents to help stimulate conversations and their memories, and believes these memory boxes will be a great help.
"Dementia is a growing problem in all our communities and we want to help our tenants, their friends and relatives to recognise the symptoms and do what they can to continue to live their lives as well as they can, getting the support they need to allow them to stay at home as long as they can, if that is their wish," explained Julie Burlow, Community Engagement Team Leader at Two Rivers Housing.
"We are holding an increasing number of reminiscence sessions with our tenants, and these memory boxes will be excellent. I know our tenants will really enjoy looking through them."