40 year career ends on a high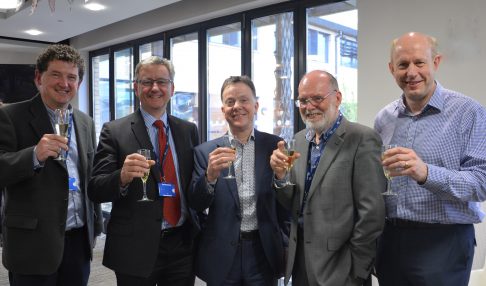 A housing career stretching back more than four decades ended on a particularly high note for Two Rivers Housing's Director of Operations.
Jon Coe who, this week, stepped down from the role he's held for 15 years, cites the housing association's recent elevation to number 11 in the Top 100 list of Best Companies as one of his career highlights.
"This was a massive achievement for us, and I am extremely pleased and proud to have been involved with much of the hard work that contributed to getting to this position," he said, as he prepared for his final few days at Two Rivers.
Jon (pictured centre) took his first steps into housing after completing his A-levels, joining the management trainee programme at Birmingham Council. "My parents thought moving around the various teams would suit me because I'm unable to sit still for five minutes," he explained, "and the constant new challenges and the energy in the sector have always been a huge attraction for me."
Four years later, Jon completed his training and became a Housing Assistant, responsible for two large estates in the south-west of Birmingham. In the mid-1980s he took his first step into the housing association sector and joined COPEC, which operated in inner city Birmingham. As Assistant Manager of the Handsworth office, he witnessed first-hand the challenging problems of unemployment and poverty which led to the 1985 riots.
COPEC became Focus Housing (and later, Midland Heart) and grew massively in the 1990s, providing many much-needed new homes in the inner cities around the West Midlands, and Jon considers himself fortunate to have been able to contribute directly to this.
Jon made his final career move in 2003, taking on a directorship and joining Chief Executive Garry King in time to finalise arrangements for setting up the new Two Rivers Housing – taking on properties from Forest of Dean District Council.
"This was a huge challenge, with a new company to set up and a long list of Tenant Promises to deliver, but it was an exciting time and a great opportunity," explained Jon. "The last 15 years have been an immensely rewarding time for me, and I am very pleased to have been able to work with colleagues to contribute to Two Rivers Housing's success, rounding off just a couple of months ago with our excellent Top 100 position."
David Powell, Chair of Two Rivers Housing, said: "Jon has made a significant contribution to the organisation and its excellent performance over the years. It has been a pleasure to work with him, and we all wish him well for the future."
Jon retired with the prospect of an extensive, and growing, list of home improvements to keep him occupied, diligently prepared by his wife Rita, ever since she retired from her own lengthy housing career three years ago. Aside from the inevitable chores, Jon hopes to be able to spend more time following the fortunes of Aston Villa and to fulfil a long-held ambition to learn to play the guitar.
Peter Stoate, currently Chief of Assets and Business Development at Solihull Community Housing, takes up the reins as Corporate Director of Operations at Two Rivers Housing in June.
The photograph shows, from left to right, Garry King (Chief Executive), David Powell (Chair), Jon Coe (Director of Operations), John Bloxsom (Vice-Chair), Barry Thompson (Director of Resources).