New honour for Churcham war hero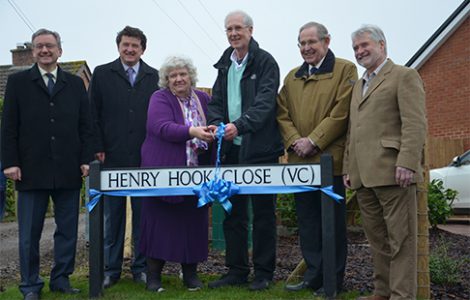 Churcham has honoured its most famous "˜son' through a new housing development which has taken his name.
Private Henry Hook was awarded the Victoria Cross – the highest award for gallantry – following the Battle of Rorke's Drift in the late 1800s. He is buried in the village churchyard.
On Friday, his great niece Shirley Fowler and great great nephew Peter Collins were joined by parish councillors, the Vice-Lord Lieutenant of Gloucestershire and representatives of Two Rivers Housing to unveil the sign for Henry Hook VC Close – the first new homes to be built in the village for over 50 years.
Churcham parish council identified the need for affordable homes in the area and worked closely with Two Rivers Housing to design them. The result is four houses, two flats and a bungalow in Chapel Lane and people with a local connection through work or family were given priority. Five of them are rented and the other two are Shared Ownership homes. The first occupants moved in just before Christmas.
Garry King, Chief Executive of Two Rivers Housing, said: "Local councils should be inspired by the way the Churcham community has supported this wonderful scheme, getting involved right from the start and helping to design it around the needs of local people. As a result, we have been able to build homes that help to keep families together, which is great news for the future of this small rural community.
"It's also very fitting to be able to honour one of Churcham's war heroes in this scheme and I am delighted we were joined by two of Henry Hook's relatives to help us mark this great occasion."