Making homes warmer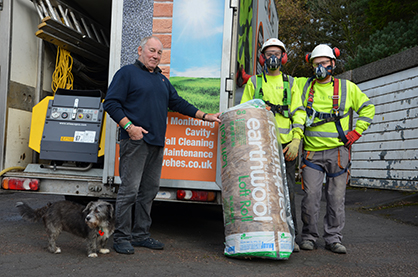 Hundreds of Two Rivers Housing tenants will be enjoying a warmer – and cheaper – winter and spring, thanks to a new programme of home insulation.
The not-for-profit housing association is part-way through assessing more than 900 of its properties which have electric or solid fuel heating and a low energy rating, to see if they would benefit from cavity wall or loft insulation.
Nearly 200 properties have already been improved and many tenants have commented on how much warmer their homes now feel. They are also expected to benefit in their pockets, as projected energy savings come to nearly £800 per household over a three-year period.
This project has been possible due to funds from Scottish Power as part of an Energy Company Obligation which the "˜big six' energy companies have signed up to. It is being delivered on Two Rivers' behalf by Monmouth-based Evolve Home Energy Solutions.
Two Rivers Housing's Project Manager Emma Field, said: "This is an excellent scheme. Not only will a huge number of our tenants feel much warmer in their homes, but they will also make significant savings on their heating bills. We are delighted with the results so far, and are really encouraged by the feedback from tenants who have already benefited."
One of those tenants is Gordon Bourne of Cinderford, who recently had his walls insulated and is about to have his loft done too. "There's been a vast difference and I noticed it straight away. I haven't had a heating bill through yet but it can only reduce my costs. I used to have my heating on at number six, and now it's down to one or two, and that's before the loft has been insulated. It's been amazing. Well worth having it done."
Gary Randle, Operations Director of Evolve HES said: "We are delighted to be involved with this project and want to personally thank all residents for their support whilst we have been undertaking these improvement works. The insulation measures we believe make a real difference in helping support Two Rivers in their commitment of ensuring warm and comfortable homes as well as helping to support the environment."
This project will continue over the next couple of months.