Two Rivers staff offer a helping hand at Ross park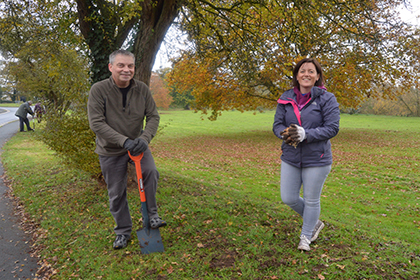 Five members of staff from Two Rivers Housing in Newent gave up a day to support the Blake Memorial Garden Volunteers in Ross-on-Wye and take part in a "˜bulb-planting mini marathon' that the community and visitors can enjoy in the spring.
The group of 10, equipped with spades and sacks of bulbs, set about planting over 5,000 daffodils along the verge of the park, promising a wonderful display at the start of next year.
Rob Taylor, retired horticulturalist and a volunteer at The Blake Memorial Garden, was delighted with the effort put in and the results.
"What a brilliant job they did," he commented. "Tea and cake fuelled the willing workers and by late afternoon the job was done. We are all looking forward to the spring when the display along the verges of Wye Street will be truly remarkable. A big thank you to all the volunteers."
Caroline Utting, Chair of the Blake Memorial Garden Volunteers also added: "It was a great day and I'm amazed all the bulbs got planted. It was good to meet everyone from Two Rivers Housing. Many thanks for all their hard work."
This is the latest in Two Rivers Housing's "˜Helping Hands' initiative which gives each staff member a day out of their normal working hours to help other organisations and charities within the community it serves.