TRH launches unique estate agency franchise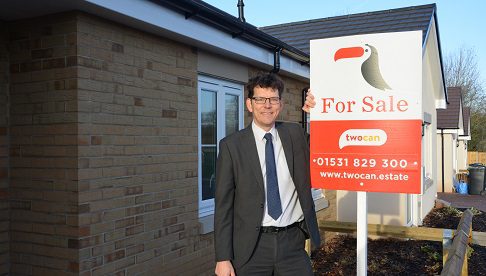 A housing association is launching a unique estate agency franchise – and is inviting sector colleagues to join it in saving money and attracting new revenue.
Two Rivers Housing established TwoCan estate agency in 2015 and has been successfully selling its own houses, and properties on behalf of other housing associations and private vendors, since then.
Now it is extending this unique money-saving, income-generating opportunity to other housing associations through a brand new franchise, and the first ones will open in 2018.
TwoCan is a "˜profit-for-purpose' subsidiary of Two Rivers Housing in Gloucestershire. It competes professionally with established high street agencies with one key difference – vendors know their fees go to support the charity and help provide more affordable homes.
"This has been a highly attractive selling point for vendors," explained Warwick Ainsworth-Parker, Managing Director of TwoCan (pictured). "Whether TwoCan has been representing private individuals or selling houses for other housing associations, this is the reason why many have chosen to sell through TwoCan. And they have been impressed by our service."
TwoCan has also recently experienced additional spin-off benefits when selling Two Rivers' purpose-built homes on the open market. The agency was commissioned to sell the existing homes of prospective purchasers, thereby bringing in even more revenue.
"We have saved huge sums on the fees Two Rivers has traditionally paid to estate agents to sell their properties for them, and we have brought in new revenue by offering the same service to others," said Warwick. "After two years of refining our business, we are now keen to help other housing associations that would like to benefit from our experience, buy an off-the-shelf package and set up their own TwoCan estate agency.
"We think this is a first for the sector and I can see the TwoCan model and brand really taking off," he said. "The potential is huge. Housing associations could potentially cover the whole UK, keeping the benefits within the sector and ultimately helping to provide affordable homes for tenants for generations to come."
ousing associations wishing to find out more about the TwoCan estate agency franchise are invited to contact Warwick on 01531 829298 or email warwick.ainsworth-parker@twocan.estate . You can also see the TwoCan website – www.twocan.estate .