New homes keep families together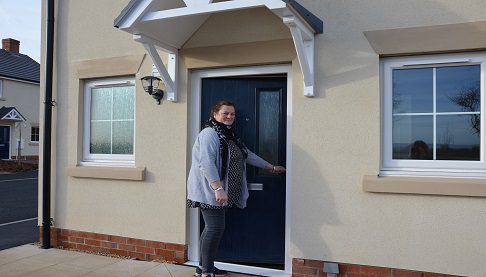 Catherine Leaver was so excited at moving into her new home at Churcham, she didn't sleep properly the night before.
Having been born and brought up in the village, her younger daughter at the village school and with close family still living there, this was the perfect place for her to live, but she had almost given up on being able to find a home she could afford there.
Then a new seven-home development was built in Chapel Lane by Two Rivers Housing and she jumped at the chance to rent one of them.
"I was desperate to stay here because of the children, the schools and my family, but didn't know how I could afford it," said Catherine. "Then these came up. I was so excited to finally be moving in, I was awake at four o'clock on the morning I collected the keys!"
The homes were built in close consultation with the parish council which had identified a need for affordable properties in the area. The council even helped to design the bungalow, two flats and four houses – two of which are for Shared Ownership.
"This was a great example of working in partnership with the council to meet a need in this popular rural location," said Rachel Smith, Head of Housing. "The homes were all reserved for people who could prove they had a connection with the area, whether it was through work or family ties, which helps to keep the community together and keep it prospering."
The scheme has been called Henry Hook Close, honouring the village war hero who was decorated with the Victoria Cross for bravery following the Battle of Rorke's Drift. An official road-naming ceremony will be held in January.