Housing association donates gifts to children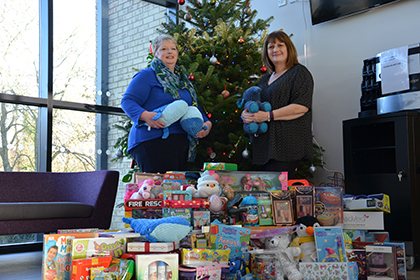 Two Rivers Housing is ensuring around 100 local children and teenagers will wake up to presents on Christmas Day. Over the past month, staff have been bringing in gifts to donate to the Salvation Army Christmas appeal.
Toys, books and other gifts for all ages have been donated to the Forest of Dean Salvation Army, to be given to families in difficulty and who are seriously struggling to buy gifts for their children this Christmas.
Julie Burlow, Community Engagement Team Leader at Two Rivers, commented: "Our staff have been so generous again this year. This is the third year running that we have collected for the Forest of Dean Salvation Army and I am totally overwhelmed by the amount donated. We had nearly 100 gifts by the time we handed them all over as well as £78 which was raised to enable the Salvation Army to purchase any missing gifts. I'm so glad that we are able to help make a difference to a lot of families this Christmas."
You can make a donation to the Forest of Dean present appeal, or find out other ways to get involved and help make a difference to people's lives in the community by contacting your local branch or by visiting www.salvationarmy.org.uk .