Two Rivers staff help out at the Great Oaks Hospice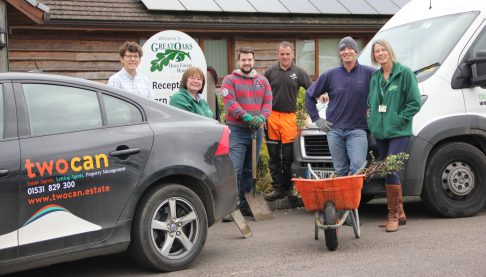 Six members of staff from Two Rivers Housing volunteered their time to help out at the Great Oaks Hospice in Coleford as part of the "˜Helping Hands' project. The project gives each staff member a day out of their normal working hours to help other organisations and charities within the communities it serves.
The Two Rivers team worked hard, planting around 2,000 bulbs and shrubs, kindly donated by Coinros Park Nurseries, as well as mulching borders and flower beds.
Great Oaks Hospice offers services for adults with serious illness. This ranges from supportive, palliative and end-of-life care through to support for families. There is no charge for their services and they rely upon the kind support and donations of the public, local businesses and volunteers.
Steve Waygood, a volunteer at Great Oaks, commented: "The day exceeded all expectations. Your staff were superb. They were on time, worked hard, informed, good humoured, prepared to go that extra mile and everything was completed well on time.  All I can say is that it was really good day and we now have the structure and plants for a border which will grow and develop to delight the clients and staff at the hospice."
Warwick Ainsworth-Parker, Managing Director of TwoCan Estate Agents, (managed by Two Rivers Housing) added: "It was a very enjoyable day and both Steve and Ellen, who volunteer there, were excellent hosts. The Great Oaks Hospice is a wonderful place and I hope we can help them again in the future."