RAFA says thank you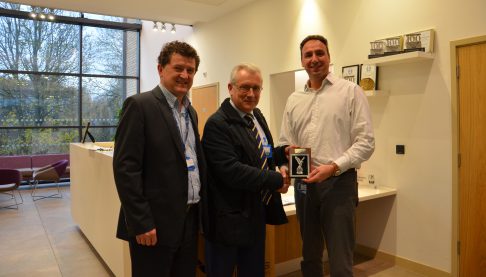 Two Rivers Housing and the Royal Air Force Association (RAFA) have come to the aid of a disabled ex-serviceman, by providing a shed for his motorised scooter.
RAFA donated the shed to a former airman, but was struggling to find anyone to put it up – until their local representative spoke to Two Rivers Housing.
The housing association dispatched two members of its PropertyPlus maintenance team to the RAF veteran's Cinderford home to lay the timber base, put together the large metal shed – described by their manager Remco Kroese as "a huge Meccano project" – and install the electrics.
Two Rivers carried out most of the work through its Helping Hands scheme, which gives staff the time to work on community projects. Ben Yeates and Mark Miller – a new addition to the team as an electrical apprentice – worked hard all day to complete the job, leaving the veteran delighted with the result.
Wing Commander (retd) Steve Waygood, from RAFA, said: "There simply was no other help apart from the team at Two Rivers Housing and I send my heartfelt thanks to them. By working together, the life of a Royal Air Force veteran has been transformed."
Remco Kroese, Head of Contract Services at Two Rivers Housing said: "We are a community organisation and this is exactly the kind of project where we can use our skills to help others. It was a privilege to be able to help improve the life of an ex-serviceman."
Wing Commander Waygood visited Two Rivers Housing to present a plaque to Remco and Chief Executive Garry King, as a lasting recognition of RAFA's appreciation.