Many Helping Hands make light work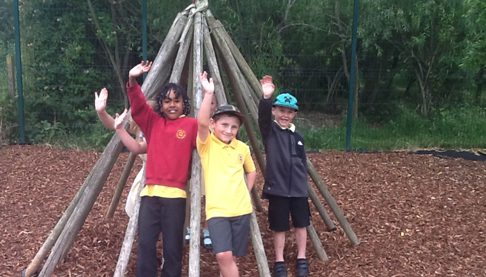 Six hard-working members of Two Rivers Housing staff spent one of the hottest days of the summer transforming a children's play area at Berry Hill Primary School.
The team representing five different departments across the not-for-profit organisation cleared a mound of brambles, ferns, nettles and weeds from the infants' playground, then laid a membrane and four tonnes of woodchip. They also found time to trim trees and prune a bush to create a den and complete their project.
Travis Perkins also supported the day by providing gardening tools, the weed membrane and woodchip.
This was the first of the housing association's "˜Helping Hands' activities of the summer which gives staff a day of their time to support a local community project.
Last year, 121 staff gave 900 hours of their time supporting 16 community projects which included gardening, maintenance, painting, litter-picking and stream clearance for hospices, playgroups, schools, and groups supporting the elderly, people with disabilities or mental health issues.
Anthea Tawney, Governance Co-ordinator, said: "It was hot work, but we had a great day. Everyone worked really hard and it was incredibly rewarding to see the difference we made and to hear the positive comments from parents, teachers and the children."
Glenys Walker, a teacher at Berry Hill School, said: "Massive thanks to the Two Rivers Housing Helping Hands project and Travis Perkins for making Berry Hill School the lucky recipients of a much-refurbished bark chip play area for the children. It was a very warm day and wow, did they work hard? Absolute stars. They did an amazing job and we are all incredibly grateful."