United against dementia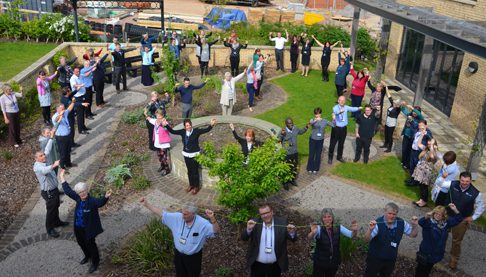 Two Rivers Housing staff have joined the Alzheimer's Society's "˜united challenge' to show their support for Dementia Awareness Week.
We have 4,000 homes to rent across Gloucestershire and Herefordshire, and more than one third of our residents are aged over 60 which puts them at higher risk of developing dementia.
Joining forces with Forest of Dean District Council, most of our staff have been coached in how to be "˜Dementia Friends', and 10 have been trained to Community Dementia Link Worker level. This means they can increase understanding of dementia and offer support to those who have the disease and their family and carers by directing them to support groups or sources of professional help.
We have arranged various memory events with some groups of older tenants to stimulate their thoughts, share their recollections and prompt discussion about events and experiences from their past.
Julie Burlow, Community Engagement Team Leader, said: "Dementia affects so many people these days and we need to be able to recognise the signs among our tenants and understand how to help them. This can involve putting them at ease and encouraging them to talk, or we may need to direct them to professional agencies who can help them further.
"We are committed to learning more, helping our tenants as much as we can and creating dementia-friendly communities. Together we are united against dementia."
Dementia Awareness Week runs from 14 – 20 May. By uniting people, the Alzheimer's Society aims to raise awareness, offer help and understanding, improve care and find a cure.
Dementia is set to be the 21st century's biggest killer. Half of us know someone who is living with dementia and there are thought to be over 2,500 people affected in the Forest of Dean. This figure is predicted to rise by over 40% in the next 15 years.