Reducing isolation and loneliness in the Forest of Dean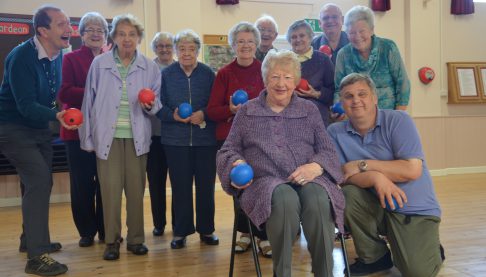 Two Rivers Housing has been working in partnership with the Forest Voluntary Action Forum (FVAF) to arrange social events for people who live in the most rural areas within the Forest of Dean.
Participating in leisure, social, cultural and spiritual activities in the community helps to reduce social isolation and loneliness, which affects a huge number of people and especially those living in these more remote areas. Opportunities to socialise with other people can be very limited.
A soft bowls group has been set up in Sedbury and has proved to be very successful with around 14 members now attending. There is still plenty of room, so if you fancy going along, the more the merrier!
Another soft bowls group has been set up in Ruardean and is being enjoyed by both tenants and residents alike. Eunice Heale, a Two Rivers tenant, commented: "Nothing really goes on around here, so we desperately need more activities like this. I have met new people and had a really nice time".
Another tenant, Clive Mitchell, added: "I only knew one or two people. I am new to the area, so activities like this are a really good way of getting to know more people. Hopefully, by getting us all together, it will spark more events and things going on in the future. Life's too short. It is important to get out and enjoy yourself!"
Kate O'Keefe, former Project Development Worker for FVAF said: "It has been great to work in partnership with Two Rivers Housing as we can achieve so much more. Anyone can come along; the sessions are suitable for any age or ability. You will receive a warm welcome, there is time for a cup of tea and a chat, it's good fun and a great way to make new friends."
If you feel that your community needs bowls, or another social activity, please get in touch with the Two Rivers Housing Community Engagement team.