Golden reward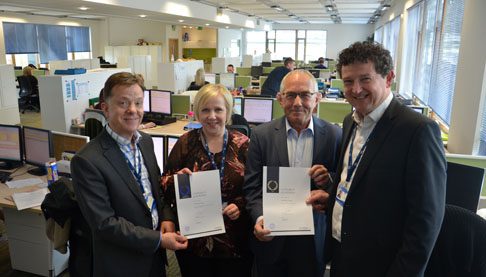 Two Rivers Housing has been applauded for its strong "˜people culture' after earning the top Investors in People (IIP) "˜Gold' standard for the third consecutive time.
Confirmation of the prestigious Gold accreditation puts us in the top 7% of IIP-accredited organisations across the UK – just months after achieving our best-ever position of number 23 in the national list of Top 100 "˜Best Companies to work for' listing.
We are re-assessed by IIP every three years and accreditation gives assurance that staff are motivated, committed and are helped to give their best to meet our mission of "˜creating great homes and supporting communities'.
We are also assessed against the separate Health and Wellbeing standards and, once again, were judged to have met all the requirements and deserved the award for the third time.
Dave Pegler, the Investors in People Practitioner who carried out this latest assessment (pictured centre right) said: "The people culture that I have again witnessed is one of the strongest that I have experienced in my years of undertaking IIP assessments."
He highlighted examples of good practice, as well as areas for improvement, and concluded: "There is a strong belief that Two Rivers Housing is a good and caring employer and a great place to work. It can face the future with confidence and from a base of strong leadership, focused managers and a loyal, skilled, flexible and motivated staff team. I am convinced that this combination will prove to be a formidable team in taking Two Rivers forward, facing and overcoming future challenges and achieving a sustainable long term future."
Jon Coe, Corporate Director of Operations at Two Rivers Housing (pictured far left with Head of Housing Claire Knight and Garry King, Chief Executive, right), said: "Our tenants are facing challenging and changing times and our staff need to be caring, flexible and responsive in order to help them through. It is, therefore, important for us to help our staff to give the best support they can to all our customers, so that we can grow and offer more help to more people.
"This is an excellent achievement. All our staff should be very proud of what they have achieved and that their efforts continue to be recognised by such a prestigious national body."
We are now reviewing the assessor's findings and developing a strategy to further embed the continuous improvement of our "˜people culture'.