Success for Two Rivers apprentices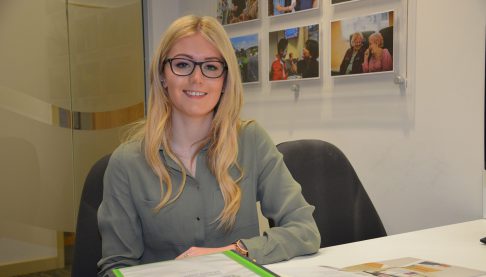 We have been supporting apprentices for over 10 years. Many former apprentices have stayed with us at the end of their training, while others have moved on to fresh opportunities.
There are currently seven apprentices on our flourishing scheme and there are vacancies for enthusiastic and motivated people to join our Customer Service, Centigen (Grounds Maintenance) and Communications/Marketing teams.
Lauren Hatton, aged 23, joined in 2012 as a business administration apprentice with our subsidiary company Centigen Facilities Management. She successfully completed her level 3 apprenticeship in 2014 and secured a permanent position as Centigen's Office Administrator before being recently promoted to Office Manager.
Lauren has also been involved in training two apprentices: one of whom who completed her training and moved on to work for a large national organisation, while the other is currently under Lauren's wing and learning the ropes.
Lauren commented: "Two Rivers has given me the opportunity to develop new skills whilst gaining qualifications, but also to continue to grow and progress. I have learnt so much about the company, from organising the grounds maintenance team to advertising and, more recently, payroll and accounts.  I am proud to have worked my way up in the business. It has been hard work, but well worth it.
"I would certainly recommend the apprenticeship route and it is great to be part of an organisation that makes a difference to the community."
Two Rivers Housing was recently named number 23 in the national list of best not-for-profit companies to work for in the UK.
If you are interested in joining us as an apprentice, please visit our vacancies page for further information.