Colourful lift-off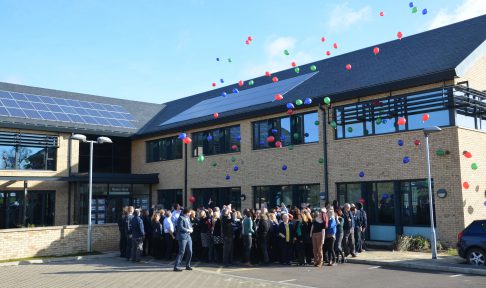 Staff at Two Rivers Housing have pledged to continue improving their own lives and the lives of others following recent success at the Top 100 awards.
We climbed to number 23 in this year's national list of best not-for-profit organisations to work for in the UK, and celebrated the achievement with colleagues, including those who work for our subsidiaries Centigen FM and TwoCan estate agents.
Approximately 130 members of staff wrote personal or work-related pledges on paper impregnated with wildflower seeds and attached them to helium-filled balloons for an impressive launch spectacle.
The balloons shatter when they reach optimum height and the pledges will compost down when they hit the earth, leaving their wildflowers to plant and – hopefully – grow, along with the staff commitments.
"We wanted to do something to mark our achievement in the Top 100 list, so we linked our celebration with a sense of doing something more meaningful and long-lasting," explained Garry King, Chief Executive.
"The Top 100 is all about doing things in a better way, so we brought staff together and asked them to make a pledge about improving their home or work life and send it up with the balloon.
"Everything is bio-degradable – which is important to us – and we hope the flowers that grow as a result will encourage wildlife and improve our environment overall."