Holiday Club Success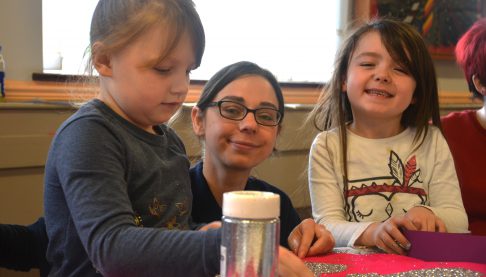 The importance of a healthy breakfast cannot be underestimated and families attending our Holiday Club in Cinderford couldn't agree more!
We had a record turn-out, with 140 people attending. At one stage we even had to turn people away as the venue had reached maximum capacity.
With the offer of a free nutritious breakfast and a range of activities for children, the events have proved to be a resounding success. Word has definitely spread that it's a great morning and fun is had by all.
The children tucked into porridge, toast, fruit and yogurt, made new friends and enjoyed a range of arts and crafts, face-painting, board games and toys. The toddler area also proved to be popular amongst new Mums and their babies.
The TwoCan estate agency team helped out, assisting children with reading and sticker books, Local NHS representatives attended and offered advice on immunisation as well as an Adult Education team.
Michelle Gardener brought along her daughter, Lily aged ten and son, Todd aged five. "This is the third Holiday Club we have come along to and they just get busier and busier. We have had a great time again today and really recommend the Club. It is especially good at this time of the year when the weather's not good and offers a great opportunity for the children to have fun and play".
Owen Chandler, our Welfare, Benefit and Debt Assistant said: "These clubs provide important opportunities for children and parents to have something nutritious to eat, but also to socialise, have fun and gain advice and support if wanted."
This is the third event we have run in Cinderford and we hope to hold more at other locations in the months to come. Keep an eye out for adverts on social media and our website.