Helping Churcham to thrive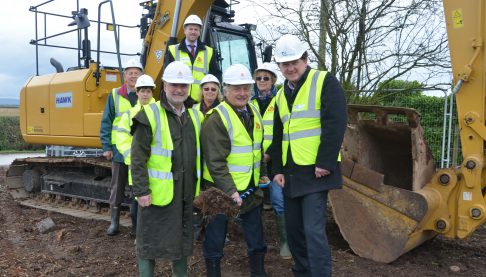 Parish councillors at Churcham are delighted that work has started to build seven new affordable homes in their village.
The mix of flats, houses and a bungalow will be offered to people with a local connection to Churcham in the first instance, helping the community to grow and prosper.
Councillors identified a need for low-cost rent homes in the village through their Housing Needs Assessment and worked with us to plan the scheme at the new Henry Hook Close – named after the village's famous "˜son' who was awarded the Victoria Cross following the Battle of Rorke's Drift.
Now work has started on the land in Chapel Lane, and there's a great deal of interest in the development, even though the ground has only just been prepared.
The type of properties and the mixture of one, two and three-bedroom homes means the scheme should appeal to all ages and needs. Five of the homes will be affordable rent, while the two three-bedroom houses will be Shared Ownership – the part-rent, part-buy option which helps people towards ultimately owning their home outright.
Kirsty Powell, Head of Development at Two Rivers Housing, said: "There is a desperate shortage of housing in Gloucestershire and we're doing what we can to provide more.
"Churcham is a very popular village and, thanks to the work carried out by the Parish Council, we are confident of the demand for these new homes which will suit single people, couples and families.
"It has been rewarding to work with a group of councillors who are so positive about the obvious need for new affordable homes in their area, and hope they will give a valuable boost to the community and its amenities."
Work started on site in February and the scheme is due to complete by the end of this year.