Fresh faces join the Two Rivers team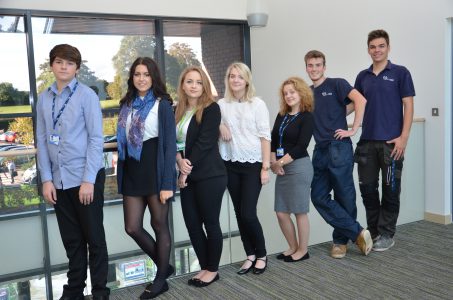 Three new apprentices have joined our flourishing apprenticeship scheme, taking the number to seven in varying roles throughout the office.
The new starters have been welcomed to the Human Resources team, the Executive PA team and our subsidiary, Centigen. They are all working towards NVQs in Business Administration.
Our apprentices have a record of success when it comes to securing full-time jobs once they have completed their training. Some have stayed at the company and continued to progress and others have moved on to work for large national organisations.
Apprenticeships are a great way for young people to get experience in a workplace environment and develop vital skills, while learning on the job, gaining qualifications and earning a real wage.
Amelia Revill (17) who has started her apprenticeship in Human Resources said: "I didn't know what I wanted to do when I left school, so I went on to do A Levels. I finished my first year at college but didn't come out with the results I had wished for. I researched my options and applied for an apprenticeship. My friend did one and she said it was the best decision that she has ever made. Apprenticeships are good because you learn through experience that you can't learn in a classroom environment. You also earn whilst you learn and that appealed to me a lot."
We offer a wide range of experience to the apprentices, who are encouraged to get involved in many different aspects of the business.