Investing in our homes – annual results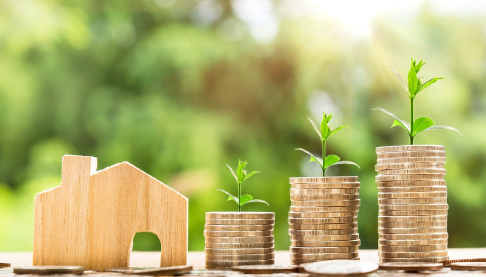 Two Rivers Housing Group has reported continued growth for the financial year ending 31 March 2021.
As a 'not-for-profit' organisation, the Group's surplus is reinvested back into its homes and services ensuring the association has a secure future. In its financial statements, the Group reported an overall surplus of £4.2m after tax (£3.3m in 2019/2020) and saw turnover increase from £26.9m to £28m, an increase of 4.2% year on year.
Despite disruption caused by the pandemic, which saw it temporarily suspend its planned maintenance and repairs programmes, the Group invested £5.1 million in repairing and reletting its existing homes and a further £1.65m in major works such as full roof replacements, exterior works and footpaths, at its older properties.
It also invested £7.45m and delivered 84 new homes across the County and has a healthy pipeline of development opportunities for the coming years. In 2018, the housing association pledged to build 1,000 new affordable homes by 2028. Since then, it has delivered 401 new homes and remains on track to hit its target by 2028.
Alongside investment in its properties, the Group has continued to invest in services to support its tenants. In 2020/2021, the Group helped almost 350 tenants obtain financial support through its free welfare, debt and benefit advice service. This included many tenants who were having to navigate the benefits system for the first time as the pandemic took hold.
It has also strengthened key tenant facing departments. Helping to improve the service it provides to tenants and with its post pandemic recovery as it continues to work through the backlog caused by national lockdowns and government restrictions.
In March, it secured a grant for more than £500,000 from the Department for Business, Energy and Industrial Strategy (BEIS) to run a decarbonisation pilot project in a small number of its homes in Blakeney. This project is the next step in its bid to become net-zero carbon by 2050 and will help it plan its long-term improvement programme for its older properties.
Commenting on the financial results, Chief Executive, Garry King said: "Despite the challenges that the pandemic raised, the efforts of our team have ensured that more than 4,200 families across the Forest of Dean and Gloucestershire have had access to a warm, safe, affordable home when they have needed it most.
"In the past year, we have continued to support our existing tenants by providing debt, welfare, and benefit advice, keeping in touch with our most vulnerable and isolated tenants and adapting the way we work so that we were able to continue to provide our core services throughout the pandemic. We've also continued to deliver on our promise to provide more affordable housing to those living in the Forest of Dean and across Gloucestershire.
"The past 12 months have brought a number of challenges, both for Two Rivers Housing and the wider housing sector. The hard work and dedication of our team and our partners has helped us to deliver a strong set of results, that will enable us to continue to provide great homes and support the communities in which we work, and I am incredibly proud of everyone involved."
***ENDS***
View our full Annual Report and Accounts here.