Keeping rural crafts alive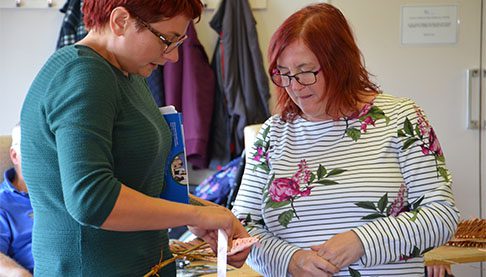 Traditional country crafts are enjoying a revival and one of our tenants is teaching her willow-weaving skills to others in a bid to share her love of nature and the use of sustainable materials.
Hannah Beasley grew up on the outskirts of London and volunteered in a variety of eco-communities across the world before moving to the Forest of Dean in 2011. She became interested in working with willow whilst studying for an apprenticeship in Biodynamic Agriculture at Camphill Communities.
Since then she has perfected her skills and set up her own business – Hedgerow Baskets – to teach the craft to others.
Hannah, who now lives in Yorkley, explained: "Basket weaving is a traditional craft using methods ingeniously designed by our ancestors. What could be better than a beautiful, practical item that literally grows on trees?! I really do find things are better when bringing it back to basics, and basket-making ticks all the boxes for me."
Working with Adult Education, Hannah has been able to introduce these ancient techniques to community groups. The first course she ran for Two Rivers tenants and local residents at Bream was so popular they invited her back to run another.
"I tried willow weaving at an opening morning," said Denise Stuart, who lives in the village. "I didn't think I would be able to do it as I have Parkinson's and was surprised by what I made. We found enough people interested to make up a class, and so it began. I love it and it has been a great way to meet new people too."
If you are interested in having a course delivered in your area, contact Karen Stiles from Adult Education, Gloucestershire. Email Karen.Stiles@gloucestershire.gov.uk.