Two Rivers supports people in need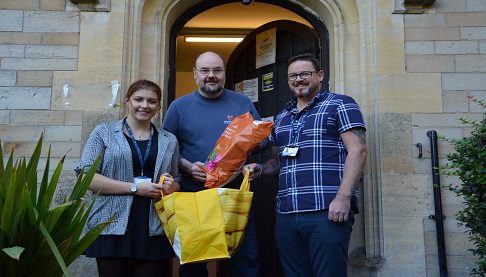 Generous staff from Two Rivers Housing have donated more than 700 items – the equivalent of over 400 meals – to help local people struggling to feed themselves and their families.
The items were gifted at a recent staff event with a "˜harvest festival' theme, and everyone was asked to bring at least one contribution from lists supplied by The Forest Foodbank and Lord's Larder.
Most of the 120 people who attended brought bags of multiple donations, which made an impressive sight when collected together.
"We were absolutely overwhelmed by the generosity of our staff," said Amelia Revill, HR Assistant who helped to co-ordinate the collection. "This is a cause which is very close to our hearts as so many of our tenants benefit from the great work of the local foodbanks, and it was wonderful to see our employees turning up with bags brimming with their donations."
The Forest Foodbank has seen a 30% increase in demand in the last 12 months, with an 11% increase in donations. It believes much of this increase in demand can be attributed to the introduction of Universal Credit and, with more people due to move onto the new payments system in the new year, this is a source of concern.
Tina Gray, Foodbank Manager at The Forest Foodbank, said: "We are delighted to receive the food donated by Two Rivers Housing. The donations weighed in at 85kg, which is enough to provide approximately 200 meals for our clients. As we are experiencing high demands on our services, this donation is especially well received. I would like to say a massive "˜thank you' to Two Rivers staff for their generosity."
The Rev Simon Mason, vicar at St Mary's Church in Newent which runs Lord's Larder, said: "We are extremely grateful for this donation of food. It means we can help more of those who come to us. Our aim is that no-one should go hungry."