The heat is on!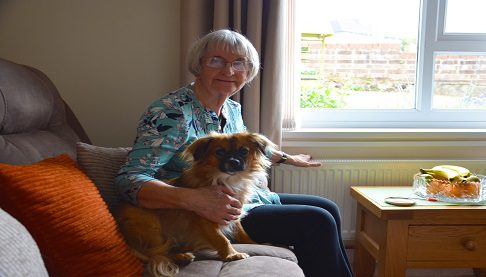 Tenants in two Lydney streets are enjoying the warmth and flexibility of their new central heating, after we moved them from electric storage heaters onto gas.
The project at Klondyke Avenue and Steel Avenue has been achieved after we secured a £100,000 grant from the National Grid Warm Homes scheme. A total of 234 bids were submitted nationwide, so we were delighted to be among the 45 successful ones.
Eve and Tom Waring are among the first to benefit. "We were on a key meter before and our night storage heating was expensive," said Mrs Waring. "Being warm is very important to us. We lived in Spain for over 10 years before moving back to the Forest of Dean, so it is wonderful to now have the flexibility to have the heating on or off whenever we like. You just don't get that with night storage heating.
"I don't drink or smoke, so it is my luxury! We have noticed a considerable difference in the warmth, and being able to have a gas hob for cooking is also a bonus."
We expect all the tenants converting to gas will also see a welcome reduction in their energy bills.
The project has been delivered in partnership with PH Jones, Warm Wales (Integrated Energy Solutions) and Wales and West.